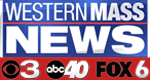 Town by Town: local author reads to students, Artfest, and Main Street meeting
SPRINGFIELD, Mass. (WGGB/WSHM) – Western Mass News is taking you town by town to Chicopee, Longmeadow, and Easthampton.
It was a fun day for students at St. Stanislaus School in Chicopee where local author Kathy Picard read the book "I Love You So Much That" to students Monday.
Each student who attended the event also took home a free copy of the book, thanks to many generous local supporters.
A local first responder representative also attended the event to give a quick presentation on safety tips.
The teen board at Rachel's Table hosted their 2023 Artfest exhibit Monday at the Storrs Library Gallery in Longmeadow.
This year's theme was 'growing up with food insecurity.'
Those art submissions ranged from paintings, digital media, photographs, and much more.